Perspective across Brisbane river towards Brisbane city, the Brisbane Opera House bridging over the existing expressway, connecting the city to the river.
Jesse Lockhart-Krause
designed this project for an Opera House in Northbank Brisbane, Queensland. It was influenced by the
Paris Pompidou Centre
, the Swiss Science Centre and the
De Young Museum
.
The Brisbane opera house aims to provide a place for cultural expression and a re-connection with the city's life blood, its river.

The Podium; a monolithic base, constructed of concrete, sheathed in timber, cascades down, stepping in a way that provides large flat public spaces and an amphitheatre of seating where street performances, local markets or a large gathering of up to 10,000 people could be accommodated.

The Building; a 'high tech' object, constructed from steel and translucent glass, is formed around two primary ideas; the first; a desire to reduce the building's footprint on the precious public space, and the second; the creation of a colourful cultural object for the city, enticing the inquisitive visitor.

The Opera House is designed to dance in and out of people's psyche on a visual level, to harbor and nurture the joy of music and to provide a public space where the people of Brisbane can congregate and celebrate.

Currently Brisbane's city lacks a clear connection to its lifeblood, the river. The existing riverside expressway cutting the city from the water. A new podium bridges over the riverside expressway creating a connection between the city and the river. The tightly constrained site demands a new way of thinking, the traditional horizontal arrangement inadequate for the site. Instead the programs are stacked vertically, the foyer at the bottom, auditorium in the center, supporting spaces above, reducing the buildings length. The building is raised above the podium, providing solar access to the public space and sound protection to the auditorium. The neck of the building, containing the vertical circulation elements is restrained into one corner, further reducing the buildings footprint. A new pathway that connects the city to the river is now formed, and a public space where the people of Brisbane can congregate and celebrate is created.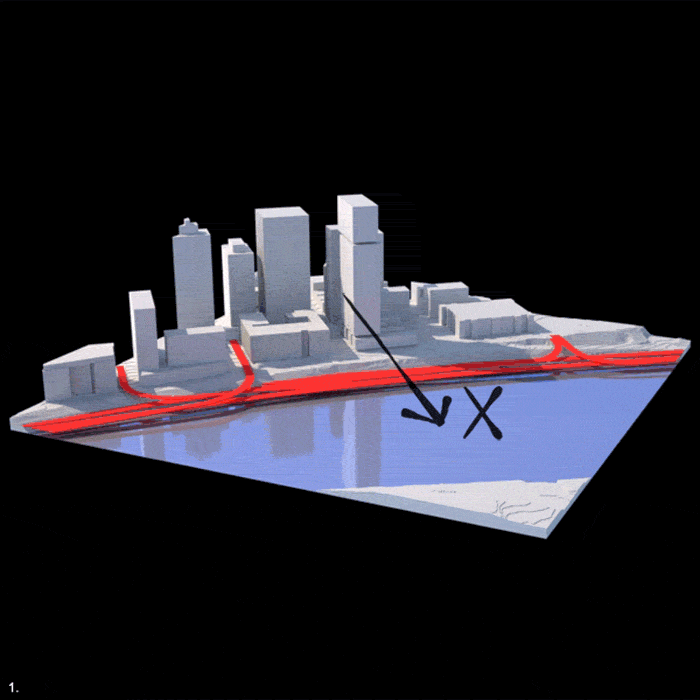 Perspective view from the main pedestrian mall of Brisbane, the Queen St mall, down towards the river.
Podium Level Plan, RL 15
NE-SW Longitudinal Section.
NW-SE Transverse Section.
Auditorium Level, RL 65 (one of four levels)
and
Foyer Level Plan, RL 55
.
Also by Lockhart-Krause:
Bolton Point House
[images and descriptions courtesy
Jesse Lockhart-Krause
]