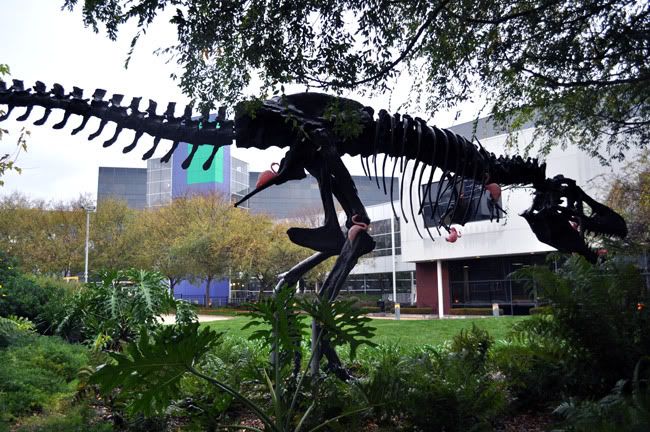 Clive Wilkinson Architects designed the central
Google office campus
Googleplex
on Amphitheatre Parkway in Mountain View, California. As a kid I took a field trip to one of the original four buildings, then owned by Silicon Graphics. The place has changed since then.
The large campus is built on a reclaimed brownfield. Public trails connect the site to surrounding nature sites, as it is right next to the bay. Several blocks of Google buildings are close by. Solar panels shade the parking venues with filling stations for electric vehicles (though I didn't see any in use.) Major buildings are topped with rows of solar panels that probably only dent the massive power requirements for Google's machines.
Perks of the campus are evident. Tricycles litter the grounds, readily available for anyone who needs to quickly transport between buildings. Volleyball courts, cafes, public art, and private food gardens make the inside courtyard a pleasant place. Swimming pools, a gymn, laundry rooms and exciting art pieces make the interiors equally fun.
The post-modernist makeover isn't profound. The emphasis on green strategies is all for show. (Why else would Google CEO's use nearby Moffit Airbase for exclusive rights to fly to exotic getaways all the time? Not exactly carbon friendly!) But it is obviously a fun place to work. The architecture emphasizes a company continually on the cutting edge of technology.
Make sure you schedule a meeting with someone you know in Google before visiting. Otherwise they won't let you in.
More Info
,
More Images
,
More Images
,
Video